Nine Tips to Spring Clean
Your Finances
"For every minute spent organizing, an hour is earned.
"
This month, we quote the sage advice of Ben Franklin to remind us that spring cleaning holds the possibility of exponential benefits.  Open the windows and allow some fresh air into all the nooks and crannies collecting dust over the past few months.  According to professional organizer Peter Walsh, "Clutter isn't just the stuff in your closet, it's anything that gets between you and the life you want to be living." What better time to review your situation and decide where you want to go from here?  Much like sprucing up your household, identifying areas for improvement in your financial house may provide direction to your exertion where it may have been lacking prior.
Embarking on such an endeavor can feel overwhelming.  Where do you start? How do you prioritize your time and effort? Look no further than to our guide which provides nine tips for spring cleaning your finances.  Consider it your catalyst to spring into action. Anything worth having is worth working for. Clean it like you mean it before the lazy days of summer arrive. Let's get started!
Fill out the form to the right to download this guide today and apply our nine tips to your spring cleaning regime. By submitting this form and providing your information, you agree and understand that Armstrong Advisory Group, Inc. (AAG) will store your personal data. You also agree that AAG may call you at the number you provided or email you using the email address that you've provided for the purposes of scheduling appointments and appointment reminders on its behalf or on behalf of Cushing and Dolan, P.C. You are also agreeing to AAG's Terms of Use and Privacy Policy.
Terms of Use and Privacy Policy
The information in our Guides is of a general nature and is provided solely for informational purposes; it is not individualized and does not constitute investment advice or an offer to buy or sell any security, product, service or investment.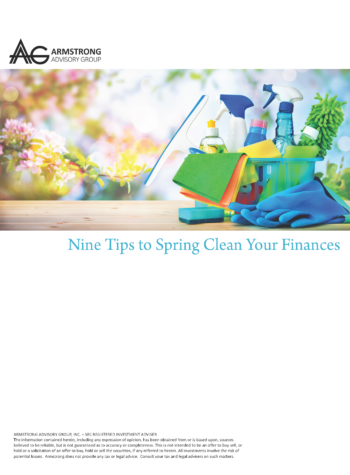 Thanks for being interested in our monthly financial planning guides.
Let's help plan your legacy. Talk to a member of our team.