Understanding
SECURE Act 2.0
"Security is not a product, but a process
."
Privacy specialist and security guru, Bruce Schneier, may have been referring to technology security, however the same can be said for developing financial security that will last through retirement.  A prime example of this work-in-progress methodology can be seen in Congress' introduction of the SECURE Act 2.0, updating legislation that has been in place for a mere three years, astute developments to make saving for retirement more attainable.
The bill contains numerous provisions that offer more flexibility to those saving for retirement.  Our guide this month identifies some of the key takeaways including an increase in the age for taking RMDs, adjustments to catch-up contribution limits, and many more options that may be available to you.  It is important to understand how these changes function before making any decisions on how to proceed.  Let's get started!
Fill out the form to the right to receive this guide via email to determine whether SECURE Act 2.0 includes beneficial opportunities for you. By submitting this form and providing your information, you agree and understand that Armstrong Advisory Group, Inc. (AAG) will store your personal data. You also agree that AAG may call you at the number you provided or email you using the email address that you've provided for the purposes of scheduling appointments and appointment reminders on its behalf or on behalf of Cushing and Dolan, P.C. You are also agreeing to AAG's Terms of Use and Privacy Policy.
Terms of Use and Privacy Policy
The information in our Guides is of a general nature and is provided solely for informational purposes; it is not individualized and does not constitute investment advice or an offer to buy or sell any security, product, service or investment.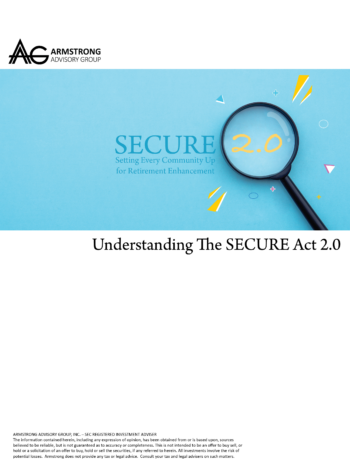 Thanks for being interested in our monthly financial planning guides.
Let's help plan your legacy. Talk to a member of our team.