Understanding
Changes to RMD Rules
If you don't like the weather in New England,
just wait a minute.
This tried and true meteoritic motto implies change is constant and patience may be required. When it comes to changes in federal regulation, Uncle Sam has less tolerance and flexibility than we do with unpredictable weather patterns.  Regarding the money you have saved in your retirement account, he wants as much of his money as he can  get and will want you to start forking over a chunk of it every year once you reach your required minimum distribution age, which has recently changed.
Our guide this month provides you with an in depth review of how the whole system works and what has changed. In it, we explain how to time your first RMD if you have not done so already, define the updates to penalties if you do not withdraw enough on time, provide options to consider if you inherit an IRA and examine the different rules for non-spouse beneficiaries. Ultimately, RMDs require a great deal of planning and accuracy.  Let's get started!
Fill out the form to the right to download this guide to get up to date information on the changes to RMD rules. By submitting this form and providing your information, you agree and understand that Armstrong Advisory Group, Inc. (AAG) will store your personal data. You also agree that AAG may call you at the number you provided or email you using the email address that you've provided for the purposes of scheduling appointments and appointment reminders on its behalf or on behalf of Cushing and Dolan, P.C. You are also agreeing to AAG's Terms of Use and Privacy Policy.
Terms of Use and Privacy Policy
The information in our Guides is of a general nature and is provided solely for informational purposes; it is not individualized and does not constitute investment advice or an offer to buy or sell any security, product, service or investment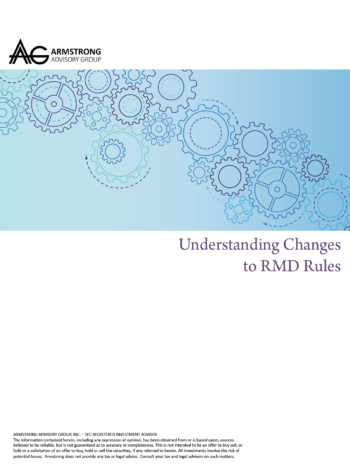 Thanks for being interested in our monthly financial planning guides.
Let's help plan your legacy. Talk to a member of our team.
Delivered to your inbox.
We aim to release two newsletters a month, one focused on financial planning and another on investing.  If you are interested in having our monthly newsletters delivered directly to your email inbox, choose what topic you prefer and submit this form.  Thank you for your interest in our newsletters.