Key Numbers to Know
In 2024
"The numbers speak for themselves."
Indianapolis 500-winning team owner Kevin Kalkhoven is one of many that have implied that numbers are great storytellers.  Metaphorically, paying attention to the protagonist of a relevant success story may influence your narrative for next year.
Before you update or start putting together your financial plan for 2024, take notice of what we call the "key numbers" – these are the main characters that develop the directive of a truly sound financial approach: marginal tax brackets, information about how the government taxes Social Security benefits, retirement account income limits, gifting limits, and Medicare Part B premiums, among other things. The purpose of this month's guidebook is to introduce these key numbers and walk you through how they're likely to impact your strategy. Let's get started!
Fill out the form to the right to download this guide and plot your approach to saving more in 2024. By submitting this form and providing your information, you agree and understand that Armstrong Advisory Group, Inc. (AAG) will store your personal data. You also agree that AAG may call you at the number you provided or email you using the email address that you've provided for the purposes of scheduling appointments and appointment reminders on its behalf or on behalf of Cushing and Dolan, P.C. You are also agreeing to AAG's Terms of Use and Privacy Policy.
Terms of Use and Privacy Policy
The information in our Guides is of a general nature and is provided solely for informational purposes; it is not individualized and does not constitute investment advice or an offer to buy or sell any security, product, service or investment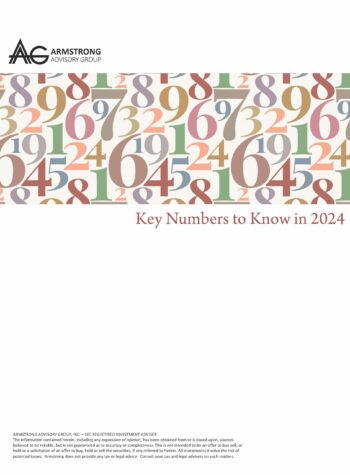 Thanks for being interested in our monthly financial planning guides.
Let's help plan your legacy. Talk to a member of our team.
Delivered to your inbox.
We aim to release two newsletters a month, one focused on financial planning and another on investing.  If you are interested in having our monthly newsletters delivered directly to your email inbox, choose what topic you prefer and submit this form.  Thank you for your interest in our newsletters.