Key Numbers
To Know in 2023.
"There is safety in numbers."
While Euripides quote has remained logical since ancient Grecian times, the main difference between our key numbers and the ones he referred to is that they don't provide safety as much as they provide insight.  Understanding how these numbers may impact your financial plan is critical to the development of a sound financial strategy. Change is as inevitable as the passing of time.  With the new year comes revisions to the marginal tax brackets, retirement account income limitations, gifting limitations and Medicare Part B premiums, among other things.  Understanding these changes is a great place to start 2023.
Do you receive Social Security benefits? How about contribute to a 401(k) account or other retirement account? Is a gifting strategy part of your holiday plans?  These actions are sure to be impacted by the key numbers we identify within this guide. At the end of the day, retirement should be an enjoyable experience rather than one dominated by stress over those ever-changing "key numbers." Let's get started!
Fill out the form to the right to receive this guide via email and steer the development of your sound financial strategy. By submitting this form and providing your information, you agree and understand that Armstrong Advisory Group, Inc. (AAG) will store your personal data. You also agree that AAG may call you at the number you provided or email you using the email address that you've provided for the purposes of scheduling appointments and appointment reminders on its behalf or on behalf of Cushing and Dolan, P.C. You are also agreeing to AAG's Terms of Use and Privacy Policy.
Terms of Use and Privacy Policy
The information in our Guides is of a general nature and is provided solely for informational purposes; it is not individualized and does not constitute investment advice or an offer to buy or sell any security, product, service or investment.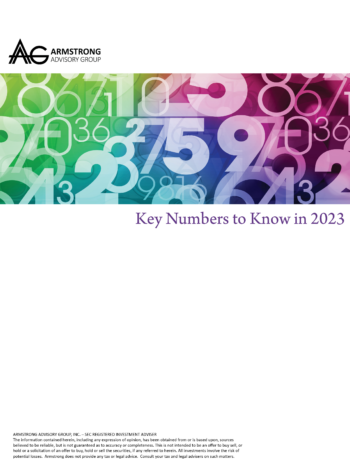 Thanks for being interested in our monthly financial planning guides.
Let's help plan your legacy. Talk to a member of our team.