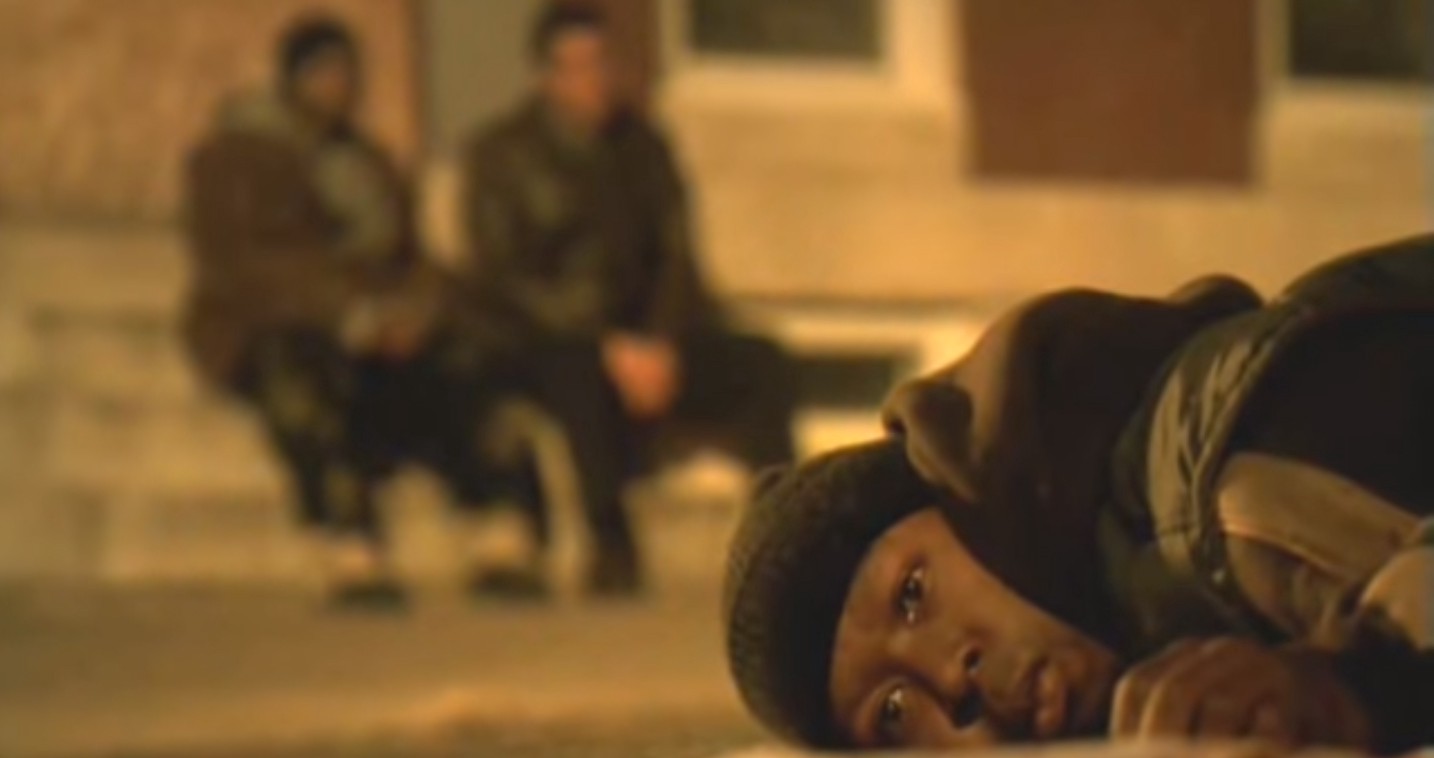 Regrets Are Worthless
"Regrets are worthless.
They misconstrue the past in sight and in sound.
And as lines recede,
No one speaks a word of his lust,
A word of dreams that are left to rust.
The TV's on and everyone stays calm."
McNulty: Let me understand. Every Friday night, you and your boys are shooting craps, right? And every Friday night, your pal Snot Boogie… he'd wait until there's cash on the ground and he'd grab it and run away? You let him do that?
Man on Stoop: We'd catch him and beat his ass but ain't nobody ever go past that.
McNulty: I gotta ask you: If every time Snot Boogie would grab the money and run away, why'd you even let him in the game?
Man on Stoop: What?
McNulty: If Snot Boogie always stole the money, why'd you let him play?
Man on Stoop: Got to. This America, man.

"The only winning move is to not play."
This America.
Man.
I'm not the first person to discuss the opening scene from "The Wire". It's well-traveled ground – Detective McNulty is interviewing a witness about the murder of Snot Boogie, and the witness mentions that Snot had a nasty habit of stealing the pot from the week's craps game in the alley. He wouldn't steal the pot once; Snot would steal it every single week. And he'd get his beating, and then it would be back to the same story the following week, because this is America, man.
We currently exist in Schrödinger's economy. On one hand, we are experiencing record unemployment in what is confirmed to be the fastest six-week rise in unemployment claims in history. For those who are furloughed, laid off, or see those possibilities in their future, life has stopped moving. On the other hand, we have companies like Amazon, Walmart, and Zoom turbocharging years of growth into a two-month period, complete with hiring binges, coding sprees, and bursts of activity reminiscent of the best times in the history of the U.S. economy. Talk to the first group mentioned in this paragraph, and there is no economy. Talk to the second group mentioned in this paragraph, and they are the economy. We are simultaneously working harder than ever, and not working at all.
America is divided. No, I'm not talking about politics. I'm talking about work.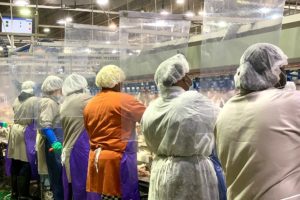 I'm talking about the ability to take your body, your mind, and your emotional energy, and use those during the day to make something that someone somewhere wants. We are currently divided in our ability to do that. Some of us are told that we can't do it – not allowed to show up today, tomorrow, or until we say so. Some of us are told that we have to do it – show up today, tomorrow, and for the entire month, and you get a $500 "responsibility bonus". Some of us are in the middle – told to work from home because your job can be done remotely even with three kids and no daycare. So it's hard to find a consensus view on what is going on today.
Instead, I want to start by taking a step back from where we are.
I want to go back to six months ago – the fall of 2019. I don't want to go back because things were perfect then. I want to go back because things were imperfect.
Let's remember the world we had in the fall of 2019. This is a chart from the St. Louis Federal Reserve: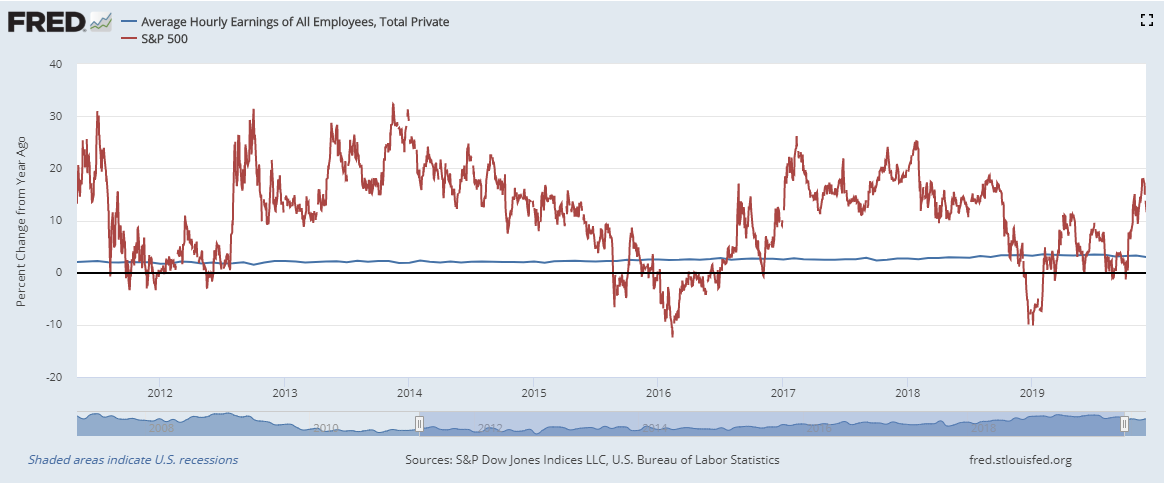 The blue line is the percentage change in hourly wages compared to one year earlier. It bottoms during this eight-year period at just over 1.5 percent growth in October 2012. It peaks at just over 3.5 percent in February 2019. While the Bureau of Labor Statistics, who collect this data, may have some issues with how they collect it and the way it is calculated, I think it's fair to state that from May 2011 through November 2019, hourly wages for Americans probably rose around 1.5 percent per year at their slowest, and around 3.5 percent at their fastest, spending most of their time in the middle of that range.
The red line is the growth in the S&P 500 compared to one year earlier. Unlike wages, which consistently moved up at a 1.5 to 3.5 percent annualized pace, the S&P 500 shows a dramatic variation in the returns generated over one-year periods. On the top end, we have several instances of over 30 percent growth, while on the bottom end, we see a greater than 10 percent contraction on at least two separate occasions. If you average annual returns for the 2,124 trading days taking place during this time, the mean return is 11.0 percent, while the median return was 13.0 percent. And if we look at the actual annualized return of the S&P 500 for this time period with dividends reinvested, we see a 12.6 percent annualized gain over that time period.
Now here's one more chart: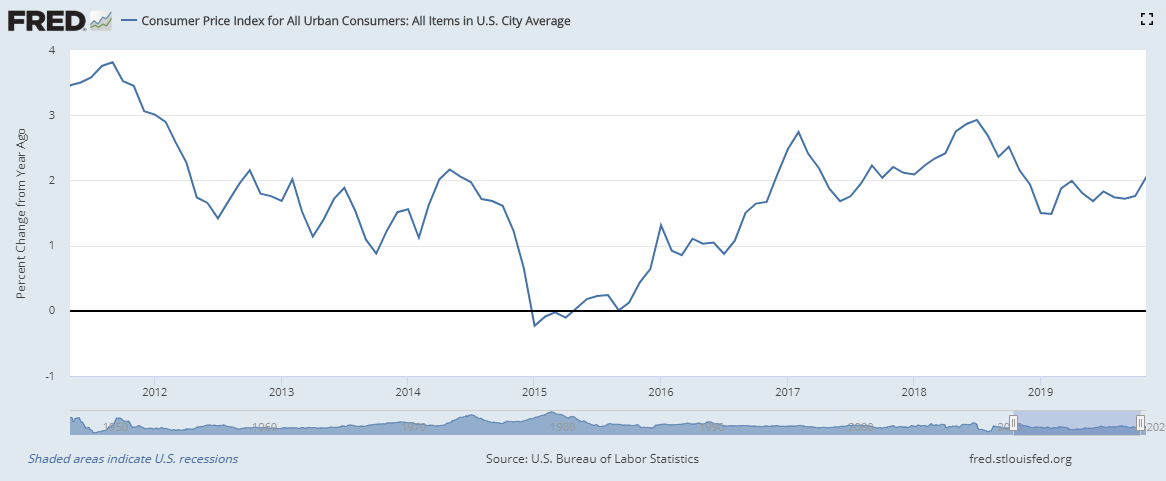 This is the CPI-U, or the Consumer Price Index for Urban Consumers, also from the Bureau of Labor Statistics, for the same time period we were just looking at. Except for 2015, inflation, as calculated by the CPI-U, typically ran between 1.5 percent and 3 percent.
To put this another way, if you tried to make money by working, the growth in your wages was barely enough to keep up with the way inflation is measured by the BLS. On the other hand, if you had money to invest and chose to make money through investing in the S&P 500 during this time, your money grew at a rate six to eight times the rate of inflation.
If you don't like pictures, let's walk through an example. Suppose you take a job paying $20 per hour in May 2011. And just for the purposes of smoothing things out, let's assume that you get a 2.5 percent raise in May of each subsequent year. After May 2019, you are now making $24.36 per hour after receiving those annual wage increases. And because, on average, the cost of goods is going up by around 2 percent per year as well, you don't actually feel like you received north a 20 percent cumulative wage increase over that period. You feel like you received a cumulative 4 percent raise over that period. If we believe the numbers from the BLS on wages and inflation, they are saying that if you were running a balanced budget in May 2011, you now have 4 percent of your monthly paycheck left over in May 2019.
Now let's look at this from an investor's perspective. In the above example, we looked at someone earning $20 per hour. Run this out for a full 2,000-hour work year, and that person earned $40,000 for their work. So if we want to look at a comparable situation for an investor, let's examine a hypothetical investor with $1,000,000 who wants to pull $40,000 out per year – the mythical 4 percent withdrawal rate. Here are the annual returns over the prior year for the S&P 500 beginning on May 2, 2012, since that first period includes May 2011 through May 2012 results:
0.2 percent
22.3 percent
15.2 percent
11.8 percent
-2.2 percent
16.0 percent
13.2 percent
5.7 percent

Wow! Look at those returns.
Let's see what happens if this investor simply wants to keep up with inflation on their withdrawals. Just to make the math easy, let's assume the investor withdraws their annual expenses at the start of May, then earns the return for the following year on the principal remaining in the account. In 2011-12, they pull out $40,000, then earn 0.2 percent on the remaining $960,000, leaving them with $961,920. Then they increase their withdrawal by 2 percent, pulling out $40,800 to maintain purchasing power, and earn 22.3 percent on the remaining principal. Now they're up to $1,126,530. By the end of the cycle, they're pulling out $46,866 in the final year, and still finished in May 2019 with $1,609,784 left over.
So in this case, the investor once again spent to keep up with inflation. And if we index the $1,609,784 left over for inflation as well, we see that it's worth $1,373,935 in 2011 dollars.
That's 37 percent more purchasing power than when they started.
That's almost 10 times greater than the cumulative purchasing power growth we saw from wage earners over the same period.
My reading of this is that from May 2011 through May 2019, capital received the lion's share of the rewards for any economic growth that happened in the United States. For the average worker, they didn't feel like they were earning that much more in 2019 compared to 2011, though it is important to note that we did see significant growth in the workforce during that time, meaning that more people were earning these slowly-increasing wages. For the average investor, if you simply popped your money in the S&P 500, you likely felt, and indeed were, significantly richer in real terms in 2019 compared to 2011.
There's nothing inherently wrong with that. Investors who were willing to invest in early 2011, when the growth of the U.S. economy was anything but certain, should be able to generate strong returns when the risks people were concerned about didn't materialize or were solved. I don't have any problem with an investor taking a chance on a business they believe in or an economy they believe in when no one else does. That's what we want investing to be. We want everyone to have a chance to play the game, and sometimes they win, and sometimes they lose.
This America, man.
So let's talk about what happens when you lose.
Today, airlines have lost. This is a chart of throughput at TSA checkpoints for the last two weeks in April, compared to the same weekday in the prior year: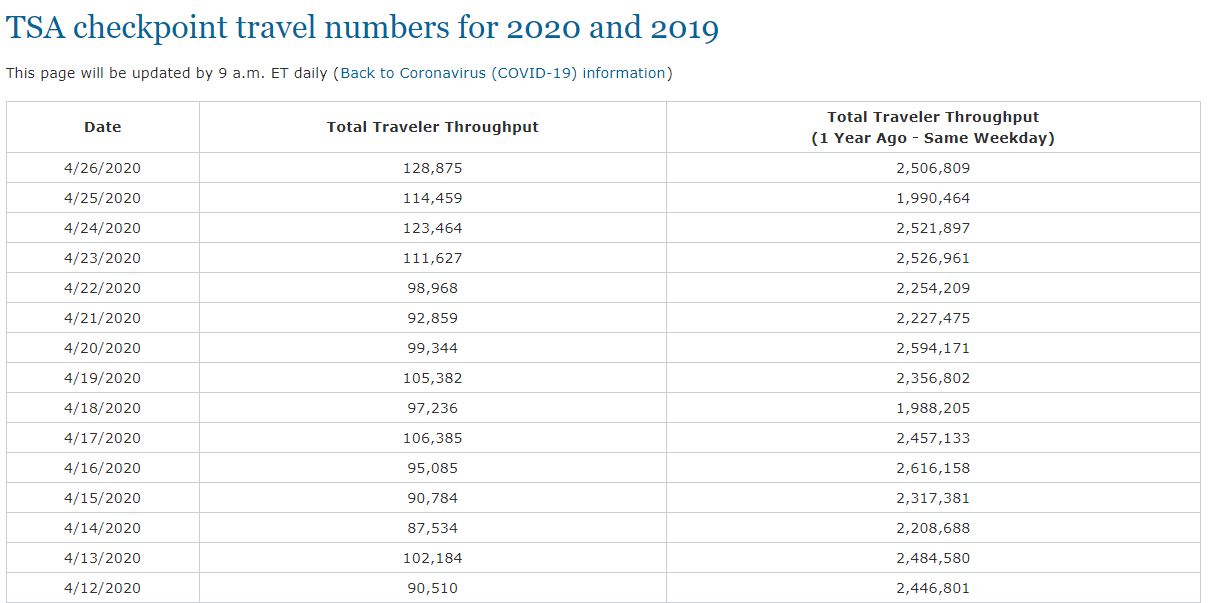 I don't know who the remaining 5 percent of people are who are traveling, but we're seeing consistent 95 percent declines in people passing through TSA checkpoints year-over-year. As Pete Campbell would say: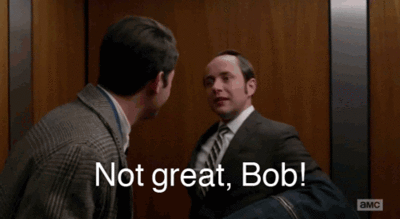 Now, the four biggest U.S. airlines – United, Delta, American, and Southwest – are on the receiving end of a $25 billion bailout package as part of the CARES Act. These four airlines have also bought back $42.4 billion in stock over the previous six years, as Ben Hunt did the legwork on this one so none of us had to.
If you aren't familiar with stock buybacks, here's how they effectively work. Let's say I run Company X and have 100 shares of stock trading at $100 per share. Investors think my company is worth $10,000. If my company has extra money left over, we can choose to have the company buy shares of its own stock, retire that stock, and then we're left with fewer shares outstanding, but investors are likely to value the company at the same overall valuation. So if we bought back 10 shares of stock, the remaining 90 shares would have to be worth $111.11 in order to maintain a $10,000 valuation, since the 10 shares we bought back were retired and not circulating anymore.
So here's the question everyone should be asking:
If airlines had surplus profits that allowed them to buy back their shares and reduce the count of available shares to improve shareholder returns when things were good, why can't they issue more shares to raise capital during a time when they need money to continue funding operations?
Look, I get that no one wants to invest in a business with a 95 percent decrease in sales activity compared to the prior year. The CEO of Boeing thinks a major airline will fold by September. This is the guy who runs the company that sells planes to the airlines so they can take people wherever they want to go. He is saying that the next three to five years are going to be brutal for this business.
But does anyone realistically think that air travel, with all its importance to the U.S. and global economy, is simply going to stay at these levels in perpetuity? At some point, every business with a real product gets to a point where it's cheap enough that someone says, "You know what – I could make money selling that stuff." Or as the airlines have done multiple times in the past 20 years, they declare a bankruptcy to restructure their debt, continue operating in the interim, and come out ready to entice a new generation of investors that this time, it's different for the airlines. Snot Boogie only has one move.
But it's not just the airlines that are Snot Boogie.
Capital is Snot Boogie.
Those are words you never think you'll write, but life finds a way.
When we talk about the world in the fall of 2019, we're talking about a world in which owners of capital, rather than providers of labor, had dominated the returns on those investments over the previous eight years. But this isn't just an eight-year trend. It's strong over the past 35 years. Here's chart of the median home price in the United States since 1984:

In Q1 1984, the median home price for houses sold in the United States was $78,200. In Q4 2018, it was $322,800. Now let's look at the same period of time for median income in the United States:

In 1984, median household income in the United States was $22,415. In 2018, it was $63,179.
More importantly, let's look at the ratio between median home price and median household income. In 1984, it was 3.49, meaning that the median home price in the United States was 3.49 times the median household income. In 2018, this ratio had widened to 5.11. Put another way, if you saved 10 percent of your monthly income in 1984, it would take you 84 months to accumulate a 20 percent down payment – seven years. In 2018, using the same method, it would take you 123 months to do so – over 10 years.
Want a prime culprit? Allow me to introduce to the history of interest rates over the past 40 years: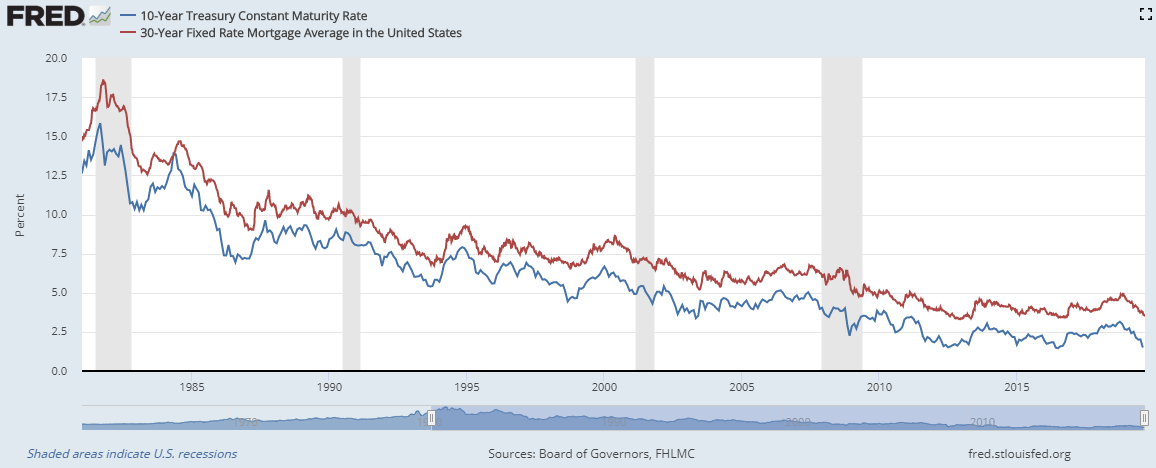 The red line is the average rate paid on a 30-year fixed mortgage in the United States dating back to the early 1980s. What does this have to do with home prices?
Let's assume that I am close to an average American household, earning $60,000 per year. I decide that I want to buy a property, but keep my principal and interest expense on my mortgage to 20 percent of my income – $1,000 per month. Let's also assume I want to buy a house with 20 percent down. If I look at a 30-year fixed mortgage with an interest rate of four percent, by putting $48,000 down, I can purchase a home worth $239,098, according to Zillow's affordability calculator.
Now let's move the interest rate on that mortgage down to three percent.
With interest rates one percent lower, I could choose to buy a home for $240,553 with $48,000 as a down payment, and it would only cost me $900 per month. But remember, every buyer now has access to these lower interest rates. If just one of them says, "Hey, I can make a higher bid to make sure I get that property and still only pay $1,000 per month," my $900 bid is now out of the running. So in competitive markets, these lower interest rates actually force higher prices. So if I still set my monthly budget at $1,000 per month, I now have to save a down payment of $60,000, and I can buy a home up to $297,193.
Does the buyer get any benefit at all from lower interest rates in this scenario? Absolutely not. It is a longer path to saving for a down payment, and the price of the home is skewed upwards compared to income, which hasn't changed. In competitive markets, lower interest rates benefit homeowners, while making it more challenging for buyers to save for a potential home purchase. Once again, we see capital (homeowners) winning out over labor (buyers).
Snot Boogie always stole the money. And we keep letting him play.
Capital and labor need each other. It's not like peanut butter and jelly where they're fine on their own but even better together. If you have no one to work and earn wages, then you don't have anyone to either make your stuff or buy your stuff. If you're a worker and there's no one out there who has a job for you, then you're in the position of needing to be an entrepreneur to build a job for yourself, and that's a whole different set of risks as well. You can't have one without the other.
But here's what happened to wages over the past 50 years:

This chart shows wages as a percentage of U.S. GDP. Since 1970, the amount earned in wages has decreased from just over 51 percent of GDP to just over 43 percent of GDP. We've built more wealth in this country over that 50-year period. We've just given less of it to workers.
So in a world where everything except gravity is different from how it was six months ago, we have an amazing, fantastic opportunity to build something better.
And in this case, even though this is America, and anyone can play, that doesn't mean we have to play in a game that has been tilted to one side for the last 40 years.
The only winning move is to not play.
How many of us felt worked to the bone prior to COVID-19? How many of us felt like our companies didn't care about us prior to COVID-19? How many of us lamented that big, national chains moved in and all of the local stores closed up shop prior to COVID-19? How many of us felt like we had no one to talk to and our communities were falling apart prior to COVID-19?
And that's the world we can't wait to get back to?
No.
We can do better.
We can build an economy where a wider group of the population can participate in the gains that are currently being experienced by a small subset. We can build an economy where there's an incentive to start and grow a company that makes something valuable, not that just makes itself valuable through financialization.
Where do we start? Here's my list:
Equalize capital gains tax rates and ordinary income tax rates.
Create a $1,000,000 lifetime exemption for capital gains prior to taxation (h/t Ben Hunt).
Require all publicly-traded companies have minimum employee representation on their board of directors.
Require all publicly-traded companies compensating executives with equity to offer the same composition of compensation to all employees.

These are all action-oriented items. They are not designed to penalize capital after massive gains have been earned, as wealth taxes do. Wealth taxes address the symptom, not the problem. The problem is not too much wealth. The problem is too much wealth in the hands of too few, and we need to create system that allow for more equitable distributions to begin with, rather than attempting to redistribute after the fact. The latter opens the door for avoidance and redistribution shenanigans, while the former allows those involved in the economy to proactively make decisions about corporate structure and fair compensation on the front-end.
"Regrets are worthless."
That's the opening line from Midtown's "No Place Feels Like Home", talking about a world in which after time passes, everyone forgets about the subject's lust causing problems in the past. Instead of remembering how Snot Boogie stole the pot previously, we move forward as we calmly watch TV. Was it lust for power? Lust for money? It doesn't matter. The systems and institutions we've built to get through life carry on as they offer us comfort in their agonizingly comforting familiarity. And any chance to make changes because of the consequences of that lust disappear as we move farther from crisis. Regrets don't pay the bills. Let's make sure work does.
This America.
Man.
This site is published for residents of the United States, is for informational purposes only and does not constitute an offer to sell or a solicitation of an offer to buy, any security or product that may be referenced herein. Persons mentioned on this website may only offer services and transact business and/or respond to inquiries in states or jurisdictions in which they have been properly registered or are exempt from registration. Not all products and services referenced on this site are available in every state, jurisdiction or from every person listed.
Securities offered through Securities America, Inc. Member FINRA/SIPC. Advisory services offered through Securities America Advisors, Inc., an SEC Registered Investment Advisor. Securities America and its representatives do not provide tax or legal advice; therefore it is important to coordinate with your tax or legal advisor regarding your specific situation. 
The opinions and forecasts expressed are those of the author, and may not actually come to pass. This information is subject to change at any time, based on market and other conditions and should not be construed as a recommendation of any specific security or investment plan. Past performance does not guarantee future results.
Armstrong Advisory Group and the Securities America companies are unaffiliated.