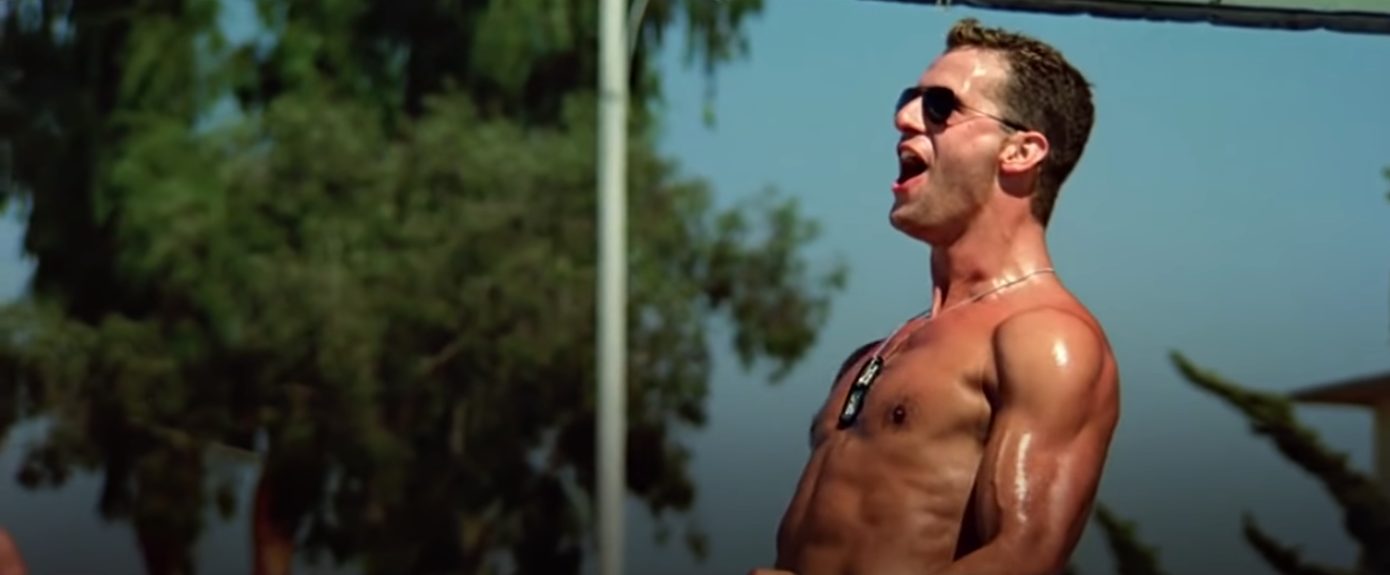 Flashing Lights and Sounds
"Now I lay here owing my life,
To a stranger and I realize,
That empty words are not enough.
I'm left here with the question of just,
What I have I to show except,
The promises I've never kept?
I lay here shaking on this bed,
Under the weight of my regrets.


.



I hope that I will never let you down.
I know that this can be more than just,
Flashing lights and sounds."
What's the first story you remember?
Not the first one that flashes through your mind — rather your first memory of knowing that you knew a story and could retell it to another person?
For me, it's Top Gun. I was four years old when I first watched the movie. Before you judge my parents, understand that I was obsessed with airplanes and they had already run through all of the military aircraft documentaries from the local video store. They figured that it couldn't be too bad for me and let me watch it, a decision they probably came to regret once they had a four-year-old running around the house screaming, "I'm too close for missiles, I'm switching to guns!"
When I tell my story of Top Gun — and I still can do it, scene by scene, to this day — I always key in on details. They're what bring the story to life. The interplay between the characters. The way Maverick and Goose flip their F-14 inverted to give a MiG pilot the finger rather than shooting him down. The sweat glistening on the men in that ridiculous beach volleyball scene. That's what makes it a story.
That's what makes any story. Otherwise I'd just say: "They lived. They died. Roll credits." That, technically, is me telling the story of Top Gun. But is it the real story?
Which brings us to today.
As we head into the second half of July just after kicking off the second half of 2020, there are two stories that are competing directly as we battle COVID-19.
We have to keep the economy afloat.
We have to keep our people safe.
Just like the abbreviated summary of Top Gun, those two sentences are both technically true. But the details matter. The details are all that matter. And when we talk about details, we are talking about actions. What actions are we taking to keep our economy afloat? What actions are we taking to keep our people safe?
Using nebulous terms like "keeping our economy afloat" and "keeping our people safe" doesn't actually accomplish those goals. We can't just wave a wand, snap our fingers, and have those tasks checked off our lists. We have to do things. And what we actually do — those pesky details — are all that matter.
Before we get to those details, about what we actually need to do regarding keeping people safe and keeping the economy afloat, it helps for us to take a look at our economy. When you're trying to keep something afloat, it's good to understand what it is.
CHAPTER I: WHAT WE'RE KEEPING AFLOAT
The graph below shows the percentage of Total Net Worth (TNW) held by the U.S. population, separated into four cohorts that are organized by TNW: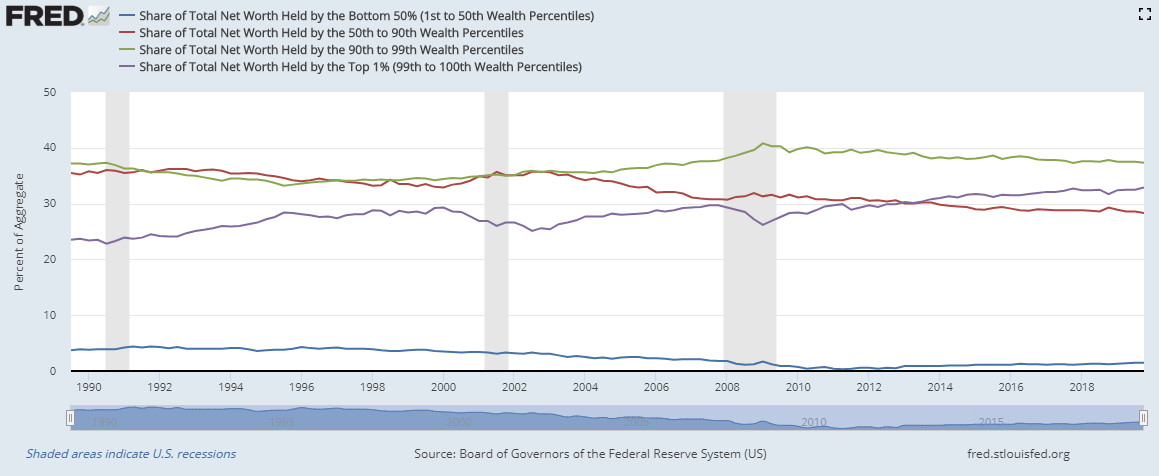 The blue line at the bottom represents the share of net worth held by the bottom 50 percent of Americans. Thirty one years ago, in the third quarter of 1989, this number peaked at 3.7 percent of the TNW held by all Americans.
I'll be honest — I don't know if this is good or bad. I just know that it is.
At that same point in time, the next 40 percent of wealth holders, from the 50th percentile up to the 90th percentile and represented by the red line, held 35.5 percent of the TNW in America. The green line above represents the wealth held by the 90th to 99th percentile Americans, holding 37.3 percent of all wealth at that time. And lastly, we have that purple line, which represents the wealth of the top one percent of all Americans, who held 23.5 percent of all wealth in the country in 1989.
Once again, I don't know whether this is good or bad, but it simply is.
Now let's examine the most recent data point, from the first quarter of 2020. In this latest reading, the bottom 50 percent of Americans hold just 1.4 percent of all the wealth in the country. The next 40 percent of Americans hold 29.8 percent of the wealth. The next nine percent of Americans hold 37.5 percent of the wealth. And the top one percent of Americans hold 31.2 percent of all wealth in the country.
In looking at the first readings from 31 years ago, I mentioned that I didn't know whether or not that distribution was good or bad. That's still true. I am not a believer in having everyone receiving equal income regardless of the work they do. I think that's equivalent to giving everyone an "A" on a test, as it devalues the work of those who have superior skills and knowledge and can provide greater value to society, while simultaneously doing a disservice to those who are less-skilled by not providing them honest feedback about how they can improve.
But I do know that when we look at the two data points together, there is something fundamentally bad happening when it comes to its societal outcomes. The fact that the bottom 50 percent of Americans have seen their share of wealth decline by 62 freaking percent over the past 31 years suggests that we are seeing the opposite of what I described above.
Unless you believe that fully half of the country — 160 million people — aren't contributing anything of real value to the country, and on top of that, actually producing less value, the economics appears to be broken here. Rather than paying individuals on a more equal basis and seeing wealth accumulate on a more equal basis, we are seeing the share of wealth for the bottom 50 percent slip away during a time where there is so much wealth in America. And it's not just the bottom 50 percent that are being impacted here. The next 40 percent of Americans saw their representative share of the wealth decline by 16 percent. When 90 percent of Americans are seeing their wealth decline on a relative basis compared to the wealthiest 10 percent, that is a problem.
This is where the details and actions start to matter.
Think of the stories that we have heard over the past 31 years as they relate to the U.S. economy:
A rising tide lifts all boats

Globalization will enable us to sell our products overseas

A 401(k) plan puts you in control of your retirement

You can be your own boss by driving for Uber or Lyft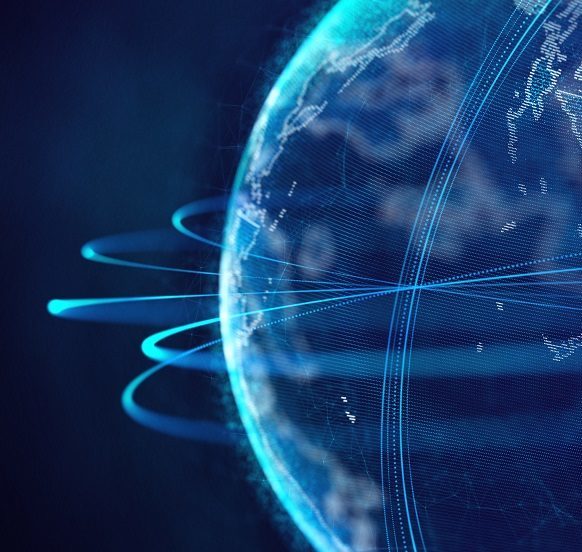 There are others that you can fill in based on your own experience, but none of these statements are inherently wrong when it comes to their summary of the facts. Unless you have a horrible boat, a rising tide will lift it. Globalization does enable the U.S. to sell products overseas more easily. 401(k) plans do put you in control of your retirement. You can be your own boss when you drive for Uber or Lyft. The reason these narratives have power in the world is because there is a grain of truth to them.
But they're also lacking in details.
There's a wonderful word in the English language, and that word is "and". That word means that I can believe that globalization is a force that has the potential to produce greater wealth and deeper and more positive ties between populations, and that the promise has not been fulfilled because the details of how globalization has been executed in the past three decades. The details and actions matter. We cannot simply rely on a grand idea to magically work itself into a more perfect existence.
We must keep the economy afloat.
We must keep our people safe.
When we talk about "the economy", what are we really talking about? The economy is not a living, breathing thing. No one goes home at night and says, "Man, I did a great job feeding the economy today. Can't wait to do it again tomorrow!" The economy is not a pet, it's not a family member. It's an abstraction that helps to explain the ability of individuals, families, businesses, houses of worship, cities, states, and any other organizations to acquire what they need from someone else who is selling it. When I think about the economy, I think about two fundamental questions:
Can I buy what I need to live?
Where is the money coming from to make those purchases?
I think that's what everyone really means when they talk about the health of the economy. If I need to provide shelter for my family, can I do it? If I need to provide food for my family, can I do it? If I want to visit the Grand Canyon, can I do it? These are the specifics that make up our individual choices that, in the aggregate, make up the economy. It's not about waking up in the morning and trying to make yourself 1 percent less unemployed. No — you either have a job, have multiple jobs, or you don't have a job. It's that simple.
And that job (or those jobs) can either provide you with the income you need to cover basics and some luxuries, or it can't. That analysis plays out in over 100 million households each day in the United States. Regardless of whether someone tells you the economy is good or bad, your ability to answer the questions of being able to buy what you need and knowing where the money is coming from are going to determine whether or not you actually feel like the economy is good or bad.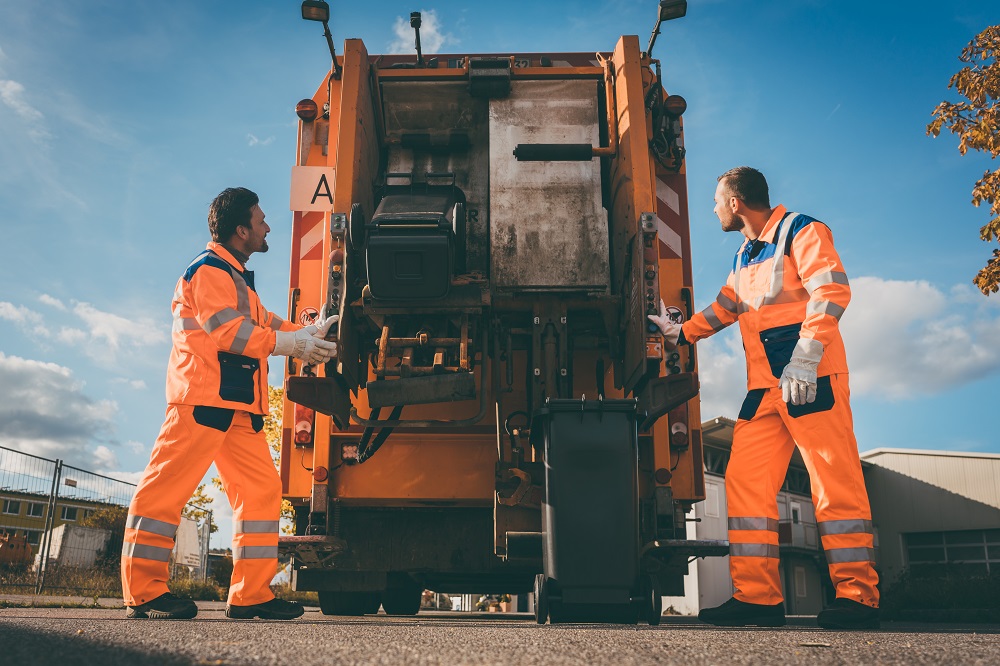 I want to spend a little more time digging in on the second question from above, though: Where is the money coming from to make these purchases?
The answer is, usually, labor. And if there's one thing I don't like in our discussions about the economy, it's the degradation of labor. Of work.
Work is something that is sacred. It's not treated that way today, but I'd be lying if I said I didn't get a little emotional every time I'm driving to work early in the morning and I see landscapers and garbagemen bustling about, already well into their shifts as I'm just showing up. It's the idea that an individual is taking their time and dedicating those heartbeats to doing something to provide for their family and also to improve another family's life through their efforts. It's something that needs to be honored and respected.
We must keep the economy afloat.
Whose economy? Are we keeping the economy afloat for the 50 percent of Americans who control 1.4 percent of the wealth in the country? How many of them really want to keep this economy afloat when they've seen the rewards trend almost exclusively to those at the highest levels of wealth? These are just some of the basic questions that we start to get into before we can address the details of how exactly to go about keeping the economy afloat.
CHAPTER 2: ASYMMETRIC RISK
One of the biggest problems with how our economy is built right now — or not built, I suppose — is that the power is imbalanced. And a global pandemic is allowing the powerful to squeeze those less powerful in order to keep things moving.
For example: If you're one of those poor saps in the bottom 50 percent of Americans who have seen their share of wealth diminish over the last three decades, odds are you're looking for a leg up. Which means you are probably predisposed to accept an extra $500 per month, right?
This was the "responsibility bonus" that Smithfield Foods offered its employees in April. According to Indeed.com, on average, meatpackers receive just over $31,000 per year as an annual salary. At that salary, getting an extra $500 per month works out to a nearly 20 percent annualized raise. Smithfield dangled this carrot in front of employees to keep them on the job, even when knowing that infected workers could pose risks to other employees in the tight quarters of these plants.
We must keep our people safe.
This is a good time to discuss the concept of asymmetric risk and how it relates to this example. Asymmetric risk is the idea that when faced with a situation, participants may not experience similar levels of risk. If a swimmer hops in a pool with a shark, the swimmer faces much greater risk than the shark. That's why if you hop into a pool with sharks, you generally prefer to do it with a protective cage in case the shark gets a little hungry. The protection afforded by the cage helps to reduce or eliminate the asymmetry of the risk.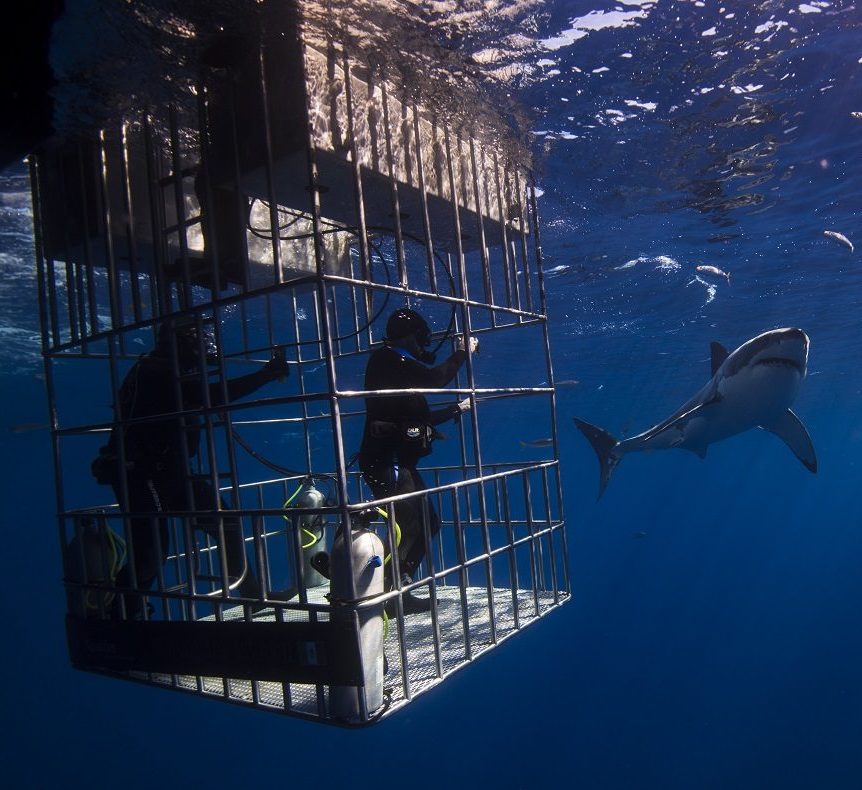 "We must keep the economy going" is a story that at its most basic level is something that most people want to accept. "Hell yes, I have rent to pay, my kids need new shoes, and I'd like to go to the beach for a weekend this summer." An extra $500 to a family making $31,000 per year is a big chunk of change. But what if you are one of the people who is severely-impacted by COVID-19? What if you die from COVID-19? What if you don't die from COVID-19 but experience kidney, liver, or neurological issues? Or what if you are one of the people who doesn't really experience any major symptoms, but your presence in your workspace infects someone who does?
For Smithfield, paying you an extra $500 for a month or two in order for you to show up is small potatoes. There's a reason why they're doing this. It's because for the company, the risk of COVID-19 is significantly smaller than for you. Ask yourself this — if you got sick from COVID-19 but didn't die, would Smithfield cover long-term medical costs for you? If you have kidney damage and need a transplant or dialysis, does that $500 you received make the pain and suffering go away? The risk is asymmetric — it is much higher to the individual than to the company, but because of the low wages and bad working conditions that meatpacking workers have been subjected to for years, the promise of a little extra money to help get those extras for a month or two sounds pretty attractive. We've created a system where individuals are willing to sacrifice their lives for an extra $500.
That's not the fault of the worker. It's the fault of a society that fundamentally does not value the holiness of work.
Sports more your thing? We're seeing principles of asymmetric risk again with the upcoming college football season. In particular, we are seeing a low-income population being herded towards utilizing their efforts and talents to help keep the economy afloat at minimal benefit to the people with those talents, and with all the gains going to a select group that already possesses significant wealth.
It's a business that features coaches with multi-million dollar salaries, glittering stadiums and weight rooms, and players, often minorities with little wealth to their name, not being able to receive a dime of compensation based on their talents. To make matters worse, colleges have been making players sign waivers removing liability from the college for any athlete who contracts COVID-19, leading to legislation that would prevent these waivers from being valid if the legislation is signed into law. To date, it has not been signed into law.
Once again, we see a problem of asymmetric risk in trying to "keep our economy afloat". Those who possess the talent and the ability to do the work that is necessary in college football do not stand to earn a thing from it. Furthermore, they are jeopardizing their future ability to earn a living even if they don't die. To be a professional athlete requires being able to do things that seven billion other human beings can't do. If you added up all the professional athletes across the major sports in the United States, you don't even get to a total of 10,000 available jobs.
If I were a college football player with any chance at a professional career that could pay me millions of dollars in the future based on my talents, and I was being told to sign a waiver to play this year while a virus ravages the country that might not kill me but might pull me out of contention for one of those rare jobs, just so that other people could earn money today that is unavailable to me because the NCAA doesn't believe I should earn money using my athletic talents in college — I would say "Oh, hell no." Period.
All of the risk is borne by the athletes. All of the reward accumulates to the institution and those who are in positions deemed worthy of pay. It's the exact same as the Smithfield situation. We even have the general public involved in both situations as well. Who didn't have a momentary twinge of panic in April when they heard that there might be a bacon shortage? "Back up the truck, Billy! We gotta stock up!" Now you're telling the general public, who haven't exactly had a lot to do over the last few months, that football might be cancelled. What are we all going to do? For us sitting at home, whether we're buying bacon or watching sports, our fundamental consumption is distanced from the risk of those actually participating in the event. But we have to look out for those who are placing themselves in the line of fire, as there's nothing to say that at some point in our lives, we will likely need someone to look out for our safety during a situation where we are experiencing asymmetric risk.
The greatest failure of American business over the past three decades is to simply say, "This is good for the economy and will grow wealth," while fundamentally dehumanizing and devaluing the daily work that goes into producing that wealth. We do not all deserve to be paid the same wage. We have fundamentally different skills that should be rewarded for unique talent in unique areas. I want Patrick Mahomes to make half a billion dollars. I want Steve Jobs to be able to make billions of dollars.
But I also don't want to see the story of "keeping the economy afloat" used to manipulate those who have already been chronically underpaid into taking on asymmetric risk that benefits those that are already wealthy, while subjecting those who have been abandoned economically to potentially life-altering consequences for sums of money that are not similarly life-changing. That's wrong. It's immoral.
CHAPTER 3: THE LEFTOVERS
The HBO show The Leftovers is one of my favorites on the network. The show is about a world in which two percent of the world's population suddenly vanishes one day. It's not about the end of the world — because for almost everyone, life goes on. Rather, it's about the breakdown in society caused by the fact that all of a sudden, two percent of the population is gone. And specifically, it's about the stories those who survived tell themselves in order to carry on.
Some people join a cult known as the Guilty Remnant, who try to live their lives as a reminder of those who disappeared, dressing only in white and not speaking. Others seek out a man named Holy Wayne, who claims that hugging him will make someone's pain disappear. There is no one, singular story that the survivors accept. No one knows for certain what happened to the two percent who disappeared.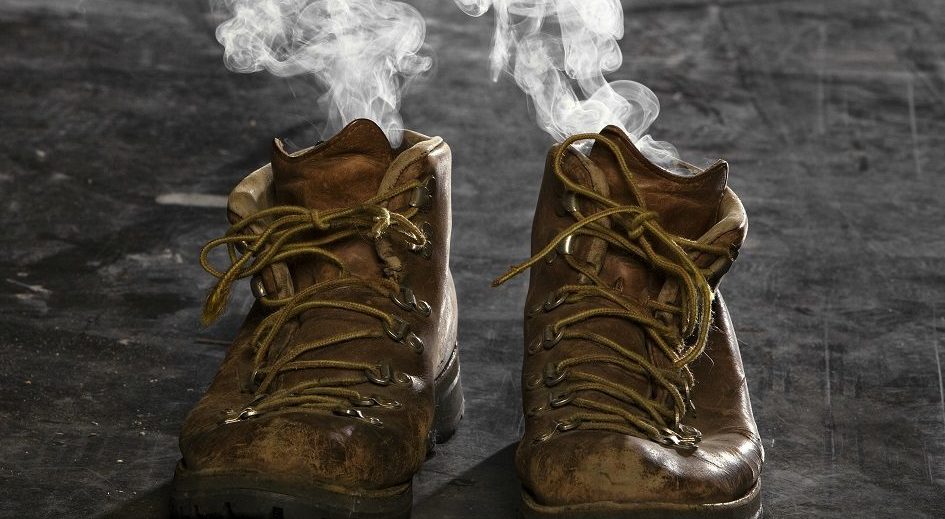 The event in which the two percent disappear is referred to as the Sudden Departure. And as we make our way through COVID-19, I can't help but be struck by how similar this is to what we're experiencing now. Most of us are going to live and be fine from COVID-19. That's not a lie.
Once again, though, the details matter. There is a small fraction of people for whom COVID-19 means death or potentially permanent disability. We don't know who those people are before they get sick. And so we tell ourselves stories to try to get through the fact that we don't know if we are one of the people who is going to be safe and minimally-impacted by it, or if we are going to be one of the people who dies or develops significant complications from it. We are all reckoning with whether or not we or someone we love will be a victim of the Sudden Departure. Those are family members, loved ones, and we as a country, our own nation of Leftovers, will have to process the decisions we made, and the people we lost.
So when we are asked to choose between keeping our economy open and keeping our people safe, we are choosing between two heavily-abstracted stories about a topic that is uncertain to begin with.
In Top Gun, we can point to the details on the film to say exactly what happened. Cougar always panics. Ice Man always wins. Goose always dies. With COVID-19, we are not so certain about what happens. We have this expectation that we should know everything about COVID-19 after six months. But there's a reason why people spend their entire lives studying single infectious diseases. It's because we are dealing with something incredibly complex, with many layers, and that we still don't understand the long-term ramifications of.
At our core, humans are making everything up as we go. I say this not in a malicious way — we are not all out there trying to hurt other people. But there is very little that is truly certain in life. We are being humbled by an invisible organism that is proving that regardless of how much we thought we knew about the world, none of us really can say with 100 percent certainty how it operates.
This is especially true in economics. We often like to think that economics has firm laws that govern it. But unlike physics, where there are true, indisputable laws, the laws of economics are more or less general predictions for what we think will happen based on history, rather than being able to definitively say how things will go in the future. How many people predicted runaway inflation after the 2008-09 financial crisis? How many people thought that unemployment couldn't go below four percent in 2019? So much of what we tell ourselves about the economy is based on the idea that there are these hard and fast rules that simply don't exist, but rather are simply stories we tell ourselves.
What's the first story you remember?
Not the first one that flashes through your mind — rather your first memory of knowing that you knew a story and could retell it to another person?
The practice of science is about asking yourself a simple question — how do I know the story I believe is true is actually true?
We must keep the economy afloat.
We must keep our people safe.
Rather than accepting those top-level truths, just as we would not accept a one-sentence synopsis of Top Gun, we need to dig into the details and ask the hard questions. We need to ask how we know that what we believe to be true actually is true. And that can only be solved by looking at the details. Those details show a chronic abuse of the sacred ability for individuals to work and earn compensation based on their talents over the past 30 years. And the same stories we've been told for the past three decades are being used against us today to perpetuate the same disregard for workers when it comes to COVID-19. We have to do better.
We have to look beyond the stories and to the actions undertaken by our neighbors, our politicians, and our corporations to see if those actions match their words. We have to take care of each other, because at some point in all of our lives, we will be unable to care for ourselves. We are born that way, and we will die that way.
They lived. They died. Roll credits.
What happens in between are the details that matter to the story, and make it more than flashing lights and sounds.
This site is published for residents of the United States, is for informational purposes only and does not constitute an offer to sell or a solicitation of an offer to buy, any security or product that may be referenced herein. Persons mentioned on this website may only offer services and transact business and/or respond to inquiries in states or jurisdictions in which they have been properly registered or are exempt from registration. Not all products and services referenced on this site are available in every state, jurisdiction or from every person listed.
Securities offered through Securities America, Inc. Member FINRA/SIPC. Advisory services offered through Securities America Advisors, Inc., an SEC Registered Investment Advisor. Securities America and its representatives do not provide tax or legal advice; therefore it is important to coordinate with your tax or legal advisor regarding your specific situation. 
The opinions and forecasts expressed are those of the author, and may not actually come to pass. This information is subject to change at any time, based on market and other conditions and should not be construed as a recommendation of any specific security or investment plan. Past performance does not guarantee future results.
Armstrong Advisory Group and the Securities America companies are unaffiliated.